KIMCO PRODUCTS, INC.
175 Parker Court
Chardon, OH 44024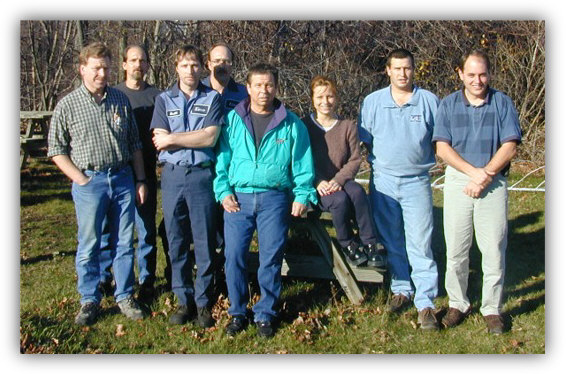 (l to r): Greg Wieszczyk, Carl Eaton, Jr., Bret Hokes, Bart Hokes, Robert E. Cseplo, Kim Cseplo, Robert S. Cseplo, Ken Hanford
On December 11, 2001, a group of Kimco Products, Inc. employees successfully completed the course, INTERNAL AUDITING: Mini-Audits for Maximum Results. John Novak from KAVON International, Inc. conducted the course..

Kimco Products, Inc. began operations in 1978 in Newbury, Ohio. Three years later the company outgrew its location in Newbury and moved to its current location in Chardon, Ohio. They first manufactured products for the fluid control industry, using Acme screw machines for the majority of their work..

They have added machinery and equipment over the years to meet the changing needs of their customers. Today, Kimco Products, Inc. is a diversified supplier capable of providing low, medium, and high volume production with Specialization in the areas of stainless steel turning, threading, and fine finishing. Internal systems dealing with quality and delivery are also progressing to meet a dynamic marketplace. The founding values of quality, service and continual improvement remain an integral part of the company.

Kimco Products, Inc. is seeking registration to the ISO 9001:2000 quality standard.


---
KAVON International, Inc. is a business consultancy that helps clients create Value in order to attain and sustain a Competitive Advantage in the markets they serve. If your company is seeking registration or compliance to any of the Quality Management System standards such as ISO 9001, ISO/TS 16949, AS9100, ISO 17025, ISO 14001, or ISO 13485, or wants to establish a continual improvement program using Lean Six Sigma methodologies, give us a call and let one of our Trusted Advisors help you with implementation and training.